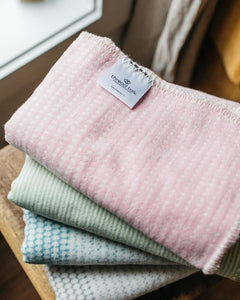 About Us
Chances are, domestic violence has happened to you or someone you love. We know firsthand because it happened to our founder, Hannah Kay Herdlinger. She created Thread Talk to sell high-quality blankets and cozy products that fund shelters for other survivors. To us, buying comfort means giving it back to those who need it most.

The National Intimate Partner Sexual Violence Survey says that 1 in 4 women and 1 in 9 men in the U.S. have experienced contact sexual violence, physical violence, and/or stalking by an intimate partner in their lifetime. 85% of domestic violence victims are women, and physical assault by an intimate partner impacts 1.3 million women each year.

Shelters across the country provide a source of protection, support, and empowerment to these survivors. But it takes a lot to do their work, and they need help. Thread Talk™ exists to support the support network- to make sure shelters have what they need to save lives.
Meet our founder
Our Mission
We don't just do it for the smile on your face when your shipment arrives. Our mission is to empower women and support victims of domestic violence across the country.
Where We Are
We're in all 50 U.S. states, including Hawaii and Alaska- that's why we partnered
with domesticshelters.org- to be available wherever there are victims of domestic violence in need.Unfortunately, that's everywhere.If you're aware of a domestic violence program or shelter that is not in the Domestic Shelters database, simply send an email with the name and location of the program and we'll look into adding it. Or, if you are a program/shelter representative and you don't see your organization listed, click here to add.
Our Impact
We fund life-saving spaces for domestic violence survivors. 100,000+ critical wish-list items donated.

Survivors of domestic violence often flee abuse and violence with nothing but the clothes on their backs. Seeking refuge and protection, they turn to domestic violence shelters which operate nationwide and provide survivors with everything they need to start over, for free. The proceeds from our purchases help keep these essential spaces running. And with the significant rise in domestic violence cases due to the Covid-19 pandemic, these shelters need our support now more than ever.

Rather than solely donating blankets, 10% of each purchase funds specific wish-list items that these shelters really need. From toiletries and laundry pods, to vacuums, cribs, & strollers.
Shelters we've donated to
Kelly's Rainbow, Albertville, AL
Theresa's Fund, Phoenix, AZ
Angels of Grace, Helena, AR
Peace at Home, Springdale, AR
NWA Women's Shelter, Rogers AR
Building Futures, San Leandro, CA
Harrington House, Crescent City, CA
The Family Tree, Denver, CO
Renew, Cortez, CO
AVDA, Delray Beach, FL
Betty Griffin Center, St. Augustine, FL
GCCC, Brunswick, GA
S.A.F.E Services, Savannah, GA
Crossroads Harbor, Rupert, ID
WINGS Program, Palatine, IL
Crisis Connection Inc, Jasper, IN
CSADV, Sioux City, IA
Caring Place, Lebanon, KY
Safe Harbor, Mandeville, LA
New Hope for Women, Rockland, ME
Abby's House, Worcester, MA
SafeCenter, St. Johns, MI
Alexandra House, Blaine, MN
Hope House, Lee's Summit, MO
Mercy House, Great Falls, MT
AEDV, Carson City, NV
Women Aware, New Brunswick, NJ
Enlace Comunitario, Albuquerque, NM
Grammy's House, Artesia, NM
NMIC, NY, NY
CVAN, Concord, NC
Baitul Hemayah, Inc, Charlotte, NC
Safe Alliance, Charlotte, NC
Cathy Mabry Cloninger Center, Gastonia, NC
Turning Point, Monroe, NC
CVIC - Grand Forks, ND
Women Helping Women, Cincinnati, OH
New Beginnings, Lawton, OK
Project Dove, Ontario, OR
Women's Center of Beaver County, Beaver, PA
Domestic Violence Program, Murfreesboro, TN
YWCA of Nashville, Nashville, TN
Family Place, Dallas, TX
NAM, Houston, TX
Time to Fly Foundation, Reston, VA
New Beginnings, Seattle,WA
CASDA, Superior, WI
Safe Project, Laramie, WY
We made October 15th Domestic Violence Survivors' Day in Charlotte, NC
Thread Talk worked with County Commissioners to proclaim a powerful day that honors DV survivors across the country.
We're Oeko-Tex® Certified
All blankets are certifiedby OEKO-TEX® Standard100, which ensures thatthey contain no substances harmful to humans.
We empower others to use their voices
Thread Talk inspires people from all over the country to share their experiences to help break the egregious cycle and let others know they are not alone!