60x80 blankets
Our 60x80 blankets are perfect for the bed, couch, or anywhere else you like to bundle up and stay warm. They're made with sustainable fabrics that provide comfort in any season.
 30x40 blankets
Our 30x40 blankets make the perfect gift for newborns or pets, as they can be used as sheets in your baby's crib or for your pup to wrap up in. They're great for stroller rides and car rides when you're on the go. The lightweight and durable materials are soft and easy on children's skin.
100% Organic cotton blankets
Our 100% organic cotton blankets are ideal for any season thanks to their breathability and comfort. These blankets not only offer exceptional comfort, but also keep away dangerous and harmful chemicals because of their hypoallergenic material.
Oeko tex blankets
Our Oeko-Tex certified blankets are durable, strong, and will last you a lifetime. The mixture of high-quality materials makes for a versatile blanket that will keep you warm no matter the weather.
See what our customers have been saying...
★★★★★

"As a domestic violence survivor and an interior designer, I'm so glad that I can show my clients a company that is making a positive impact on the community. I love incorporating Thread Talk blankets into every home - the soft colors are so warm, comforting, and inviting."

— 

Matthew M.
★★★★★

"Thread Talk is the perfect everyday blanket- so soft and cozy. It makes an amazing gift for any occasion, but also makes me feel great about giving back to such an important cause."

— 

Aria M.
★★★★★

"This is 5 Star in every way: Blanket – 5 Star quality, Selection – 5 Star choices, Delivery – 5 Star on time as promised, Feeling Good – 5 Stars. Great as some of the proceeds are going to a place that helps those in need. Incredible purchase!"

— 

David H.
Thread Talk Accessories
The perfect compliment to a Thread Talk blanket. 10% of each purchase is donated to domestic violence shelters.
Blankets with a purpose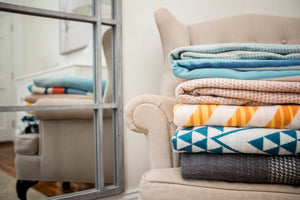 When you shop with Thread Talk, you not only get a nice blanket to snuggle up in while you watch your favorite TV show, you also provide hope and a new beginning for survivors of domestic violence. 
That's because we donate 10% of all sales to domesticshelters.org. 
Many domestic abuse survivors flee abuse with only the clothes on their back, and these domestic violence programs help provide them with everything they need to start over.
It's more than just a blanket at Thread Talk. It's a chance to improve lives.