Won't pill, fuzz, or static
This patterned throw blanket won't pill, fuzz, or static because it's made with the highest certified global standard for organic fibers.
Great gift idea
This blanket makes a great gift for anyone who loves indulging in a good book or staying snug during a chilly day at home. The stylish design is perfect for dressing up a sofa or armchair, and the luxurious feel will make them feel extra special on their birthday, holiday, or any other celebration.
Year-round comfort
Optimal for any season, this patterned throw blanket is perfect for adding an extra layer of warmth on a cool night or wrapping around your shoulders on a breezy outdoor adventure. The organic cotton fabric is lightweight and breathable, making it ideal for use in the summer months as well.
Enjoy anywhere
This blanket is fitting for any setting, from the bedroom to the beach. The durable materials can withstand years of use, and the machine-washable fabric is easy to keep clean. Plus, the versatile size means it's easy to take on the go, whether you're headed out for a picnic or going on a road trip.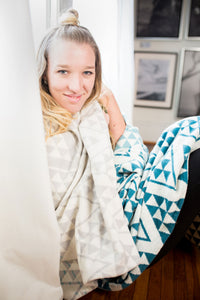 The patterned throw blanket that supports survivors
More than just a blanket
Here at Thread Talk, we are committed to making a difference in the lives of others. That's why we donate 10% of all proceeds to domestic violence shelters. So, when you purchase this patterned throw blanket, you're not only getting a cozy piece for your home, but you're also helping to make a difference in the lives of others.
Why 'Strength'?
Life can be challenging, and even the strongest people need a break sometimes. That's why this cozy blanket is named Strength. When you take a moment to relax and recharge, it helps remind you of just how strong you really are.

And no matter where this blanket accompanies you on life's journey, it's durable enough to withstand countless washes without pilling or leaving fuzz on your clothing or furniture. So you'll enjoy lasting comfort for years to come.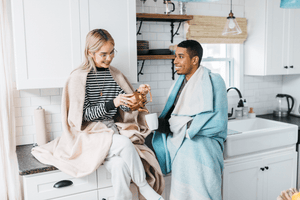 Shop 60x80 blankets
Perfect for spreading out on the couch or providing an extra layer on your bed, our 60x80 blanket keeps you warm and cozy from head to toe.
Shop 30x40 blankets
Gentle on the skin, our lightweight 30x40 blanket is perfect for
toddlers, easy to pack when you're traveling, and can serve as a comfy
lap blanket when you need it.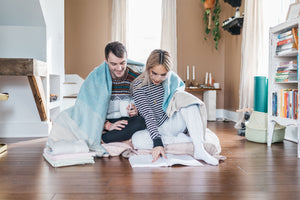 Shop Oeko-Tex blankets
Our Oeko Tex blanket is made with certified all-natural materials crafted to provide unbeatable, long-lasting comfort and serenity in any season.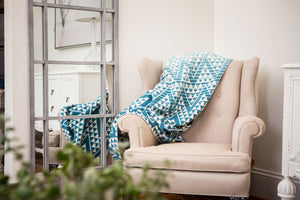 Shop organic cotton blankets
Discover the holy grail of comfort: an all-season, super-soft organic
cotton blanket that helps you sleep better, feel calmer, and keep fuzz
off your furniture.