Oeko tex blanket
Our Oeko Tex blanket is made with certified all-natural materials crafted to provide unbeatable, long-lasting comfort and serenity in any season.
Shop for a Oeko tex blanket
Treat yourself to endless comfort and bliss
Stay safe, warm and secure in the comfort of an Oeko-Tex blanket. The combination of certified fabrics ensures you'll feel relaxed and calm when you wrap yourself up in one, whether that's a lazy Sunday morning in bed or curled up on the couch with a good book.

It's the blanket you can trust to soothe your body at the end of a long day or comfort you at the beginning of a long night binging your favorite tv show.
5 different color options
Come in 60x80
Come in 30x40
Machine washable
Never pill, fuzz, or cause static
Made of 58% cotton, 35% acrylic, and 7% polyester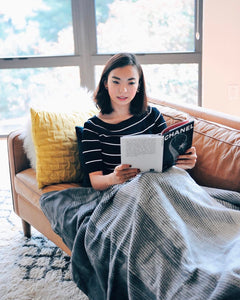 Give the gift of comfort
Imagine snuggling up with a super cozy, comforting blanket that also benefits others. When you purchase one of our Oeko Tex blankets, 10% of the earnings are donated to domestic abuse shelters. So not only will you be treating yourself to a dreamy, cozy experience, but you'll also be giving hope to those in need.
Coziness in all climates
Our Oeko Tex blankets are designed to provide a sense of ease and calm all year round. So whether you're curling up with a book during a snowy day or want an extra layer of comfort during a breezy summer evening, we've got you covered!
Calm the body and mind
Find reprieve from hectic work schedules and demanding home responsibilities in our soothing Oeko Tex blankets. Ease your anxious mind and indulge in the ultimate comfort with two sizes that are ideal for snuggling at home or taking comfort with you on the go.
Long-lasting comfort
Our Oeko Tex blankets are designed to accompany you on all of life's journeys thanks to our commitment to using machine-washable and durable materials. They'll never pill, fuzz, or cause static - no matter how many times you wash them.