Won't pill, fuzz, or static
This gray throw blanket won't pill, fuzz, or static because of the eco-friendly, high-quality materials it's made with.
Great gift idea
Give the gift of serenity and relaxation! Because of its versatile size and durability, this blanket is ideal for nature lovers and indoor enthusiasts alike. And because of its elegantly neutral design, it's sure to complement any style preference.
Year-round comfort
Perfect for any season, this gray throw blanket adds an extra sense of security on breezy summer evenings or a snug refuge on cold winter nights.
Enjoy anywhere
Whether you're curled up reading a book in your favorite armchair or drifting away on a dreamy naptime snooze, this blanket is sure to keep you snug wherever you are.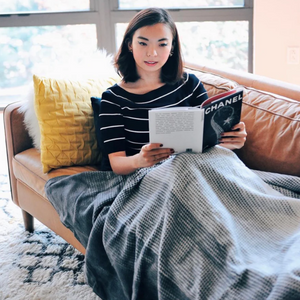 The gray throw blanket that inspires tranquility
More than just a blanket
When you purchase this gray throw blanket, Thread Talk donates 10% of all proceeds to domestic violence shelters. Our mission is to help those who need it the most. So you'll not only add a cozy piece to your home, but also provide a sense of peace and wellbeing to others.
Why 'Serenity'?
This blanket is named serenity because it's the gateway to deep relaxation and a calm mind. You'll be enveloped in luxurious softness and warmth from the couch to the bed and everywhere in between. Serenity invites you to indulge in a sense of peace and wellbeing wherever you are.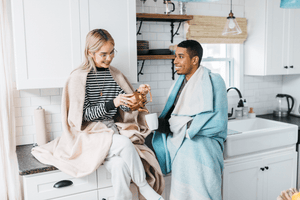 Shop 60x80 blankets
Perfect for spreading out on the couch or providing an extra layer on your bed, our 60x80 blanket keeps you warm and cozy from head to toe.
Shop 30x40 blankets
Gentle on the skin, our lightweight 30x40 blanket is perfect for
toddlers, easy to pack when you're traveling, and can serve as a comfy
lap blanket when you need it.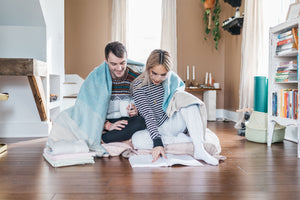 Shop Oeko-Tex blankets
Our Oeko Tex blanket is made with certified all-natural materials crafted to provide unbeatable, long-lasting comfort and serenity in any season.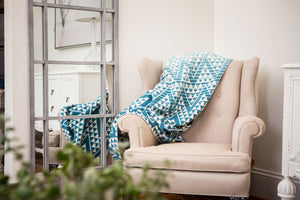 Shop organic cotton blankets
Discover the holy grail of comfort: an all-season, super-soft organic
cotton blanket that helps you sleep better, feel calmer, and keep fuzz
off your furniture.