Won't pill, fuzz, or static
This blue baby blanket won't pill, fuzz, or static because it's made with the highest certified global standard for organic fibers.
Great gift idea
This blanket makes an excellent baby shower or newborn gift! It's unique, eco-friendly, and sure to be loved by any new parent.
Year-round comfort
Perfect for any season, this blue baby blanket will keep your little one cozy all year long! Made from 100% organic cotton, it's breathable during warm summer months and provides an extra layer during snowy winter days.
Gentle on the skin
Made from 100% organic cotton, this blue baby blanket is sustainably produced and is suitable for even the most sensitive skin.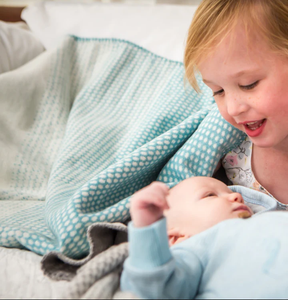 The blue baby blanket that cultivates confidence
More than just a blanket
Making a difference doesn't have to be complicated. Here at Thread Talk, we believe that even the smallest act can have a big impact. That's why we donate 10% of all proceeds to domestic violence shelters. So by purchasing this blue baby blanket, you're not only getting a cozy piece for your home, but you're also helping to make a difference in the lives of others.
Why 'Nurturing Confidence'?
This blanket is named Nurturing Confidence because it was designed to help your child feel more confident and self-assured. The blue color is soothing, like a hug from a loved one. And the soft, velvety fabric promotes relaxation and feelings of ease.

We believe that courage and determination begin with love and support, so we hope this blanket will become a symbol of growth for your child.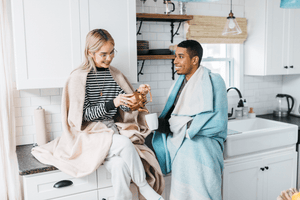 Shop 60x80 blankets
Perfect for spreading out on the couch or providing an extra layer on your bed, our 60x80 blanket keeps you warm and cozy from head to toe.
Shop 30x40 blankets
Gentle on the skin, our lightweight 30x40 blanket is perfect for
toddlers, easy to pack when you're traveling, and can serve as a comfy
lap blanket when you need it.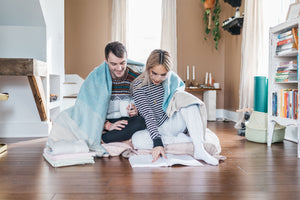 Shop Oeko-Tex blankets
Our Oeko Tex blanket is made with certified all-natural materials crafted to provide unbeatable, long-lasting comfort and serenity in any season.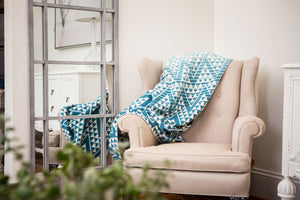 Shop organic cotton blankets
Discover the holy grail of comfort: an all-season, super-soft organic
cotton blanket that helps you sleep better, feel calmer, and keep fuzz
off your furniture.