Won't pill, fuzz, or static
This chevron throw blanket won't pill, fuzz, or static because it's made with the highest certified global standard for organic fibers.
Great gift idea
This blanket makes a great gift for anyone who loves bright, cheery colors and luxuriously soft snuggles with loved ones.
Year-round comfort
Perfect for any season, this chevron throw blanket is sure to become a go-to source for relaxation. Made from 100% organic cotton, it's lightweight for summer evenings and warm enough for winter snuggles.
Enjoy anywhere
Whether you're snuggled up on the couch or in bed, this blanket will keep you cozy no matter where you are. It's also great for picnics, beach days, or keeping in the car for spontaneous road trips.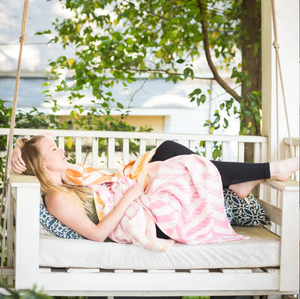 The chevron throw blanket that brightens everyone's day
More than just a blanket
At Thread Talk, we believe that everyone deserves to feel safe and comfortable in their own homes. But unfortunately, not everyone can enjoy this fundamental human right. That's why we donate 10% of all proceeds to domestic violence shelters. By purchasing this cozy piece for yourself or a loved one, you're also giving back to the community.
Why 'Happiness'?
Few things spark as much joy as being wrapped in a warm, cozy blanket without a care in the world. This blanket is named Happiness because it embodies the simple pleasure of being surrounded by soft organic cotton and bright cheerful colors. So whether you're cuddling up with a loved one or snuggling solo, this blanket will surely bring a smile to your face.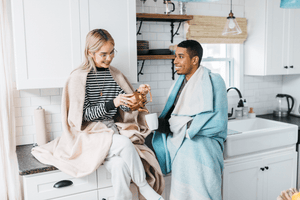 Shop 60x80 blankets
Perfect for spreading out on the couch or providing an extra layer on your bed, our 60x80 blanket keeps you warm and cozy from head to toe.
Shop 30x40 blankets
Gentle on the skin, our lightweight 30x40 blanket is perfect for
toddlers, easy to pack when you're traveling, and can serve as a comfy
lap blanket when you need it.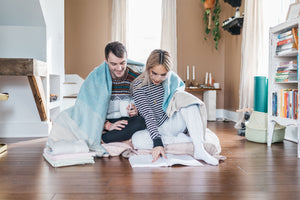 Shop Oeko-Tex blankets
Our Oeko Tex blanket is made with certified all-natural materials crafted to provide unbeatable, long-lasting comfort and serenity in any season.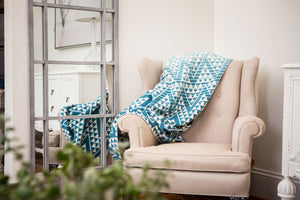 Shop organic cotton blankets
Discover the holy grail of comfort: an all-season, super-soft organic
cotton blanket that helps you sleep better, feel calmer, and keep fuzz
off your furniture.